When cookies and cream ice cream was introduced in 1983, it made the biggest debut in ice cream history- climbing and remaining since in the top 5 flavours distributed worldwide. I still remember my first encounter with the flavour. A white-chocolate lover and cookie monster at heart, it was a life-changing trip to Baskin Robbins that I first revelled in that
creamy goodness and chunky cookie delight.
When I found this ridiculously simple recipe in Martha Stewart's Cupcakes book, I couldn't resist giving it a whirl...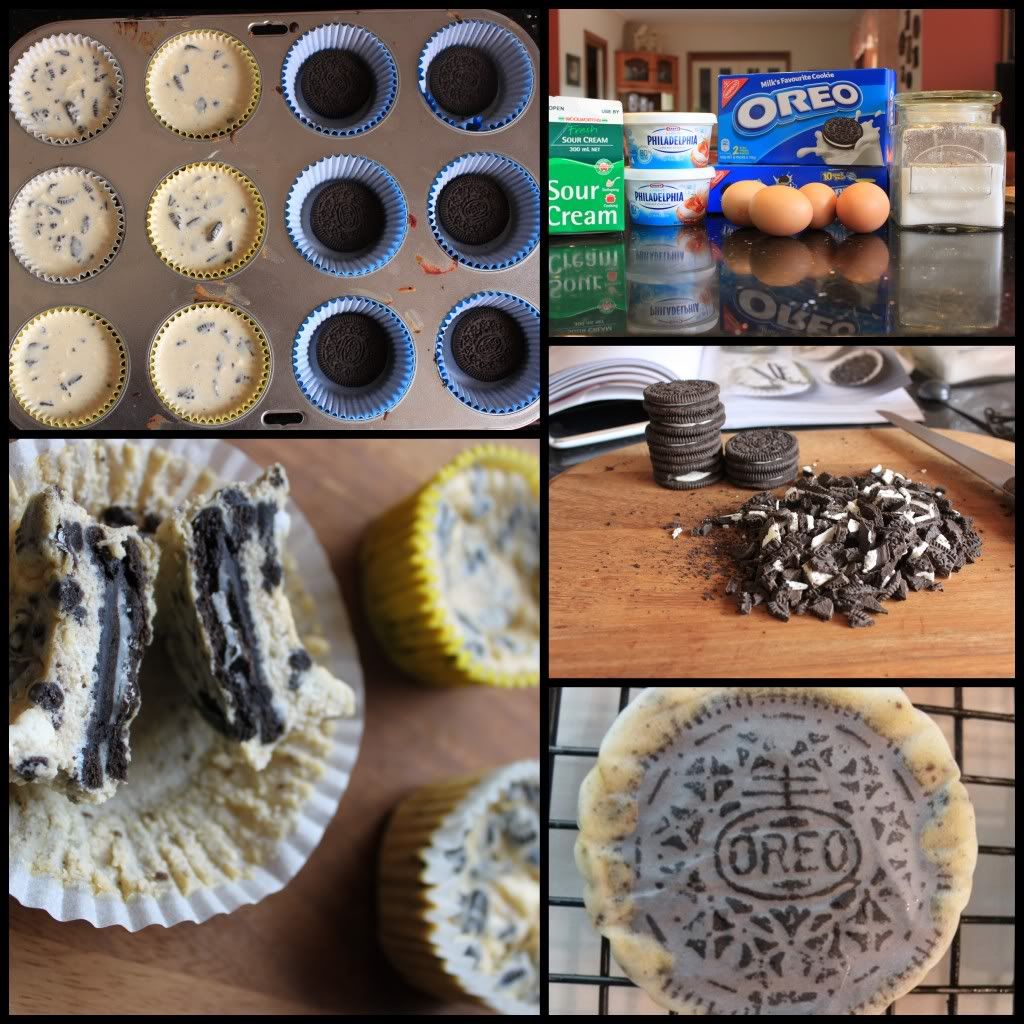 The fruits of my labour. A tip from Maz: use white paper cases as they create that funky see-through effect where you can see the Oreo. Proud to say all thirty little single-serving delights were gobbled up watching the NRL finals.

Cookies and Cream Cheesecakes
(adapted from Martha Stewart's Cupcakes)
- 42 cream filled-chocolate sandwich cookies such as Oreos (30 left whole and 12 coarsely chopped)
- 900gm cream cheese, room temperature
- 1 teaspoon vanilla extract
- 4 large eggs, room temperature, lightly beaten
Makes 30
1. Preheat oven to 150°C. Line muffin tins with paper liners. Place 1 whole cookie in the bottom of each cup.
2. With an electric mixer on medium-high speed, beat cream cheese until smooth, scraping down sides of bowl as needed. Gradually add sugar and beat until combined. Beat in vanilla.
3. Drizzle in eggs, a bit at a time, beating to combine. Beat in sour cream and salt. Stir in chopped cookies by hand.
4. Divide batter evenly among cookie cups, filling each almost to the top. Bake for about 22 minutes or until filling is set, rotating tins halfway through. Transfer tins to wire racks to cool completely. Refrigerate in tins for at least 4 hours (to overnight).