Do you like lists? I love lists. To do lists, shopping lists, best of___ lists, pros vs. cons lists.... I love reading and compiling lists. That's why I was uber-excited by
The 50 Things Every Food Lover Should Try
list that was published today.
It's not that I'm so unadventurous that I need convincing to try something new. In fact, it's quite the opposite. I believe in trying everything at least twice (because first impressions can be oh so wrong) and being an
indecisive diner,
I'm often left overwhelmed with choices.
This list is gold because it narrows down the kabillion places I've wanted to try and further saves me at least thirty minutes of umm-ing and ahh-ing at menus. While fellow foodie
Zina
said she could tick 22 off her list, I sadly have conquered only a handful.
I, Maz, hereby solemnly treat challenge myself to consuming each and everyone one of these dishes.
When my boyfriend messaged me this afternoon

asking if he could take me on a spontaneous hot date

somewhere, I shot one back saying, "Google: SMH

50 food lovers try. Pick something".
His selection did not surprise me at all.
He chose #2 Mrs Jang's home-style fried eggs from Billy Kwong for two reasons.
1) He has a bizarre affinity with eggs and 2) the fact that Billy Kwong doesn't take bookings worked in our favour , having decided to eat out at 4.45pm.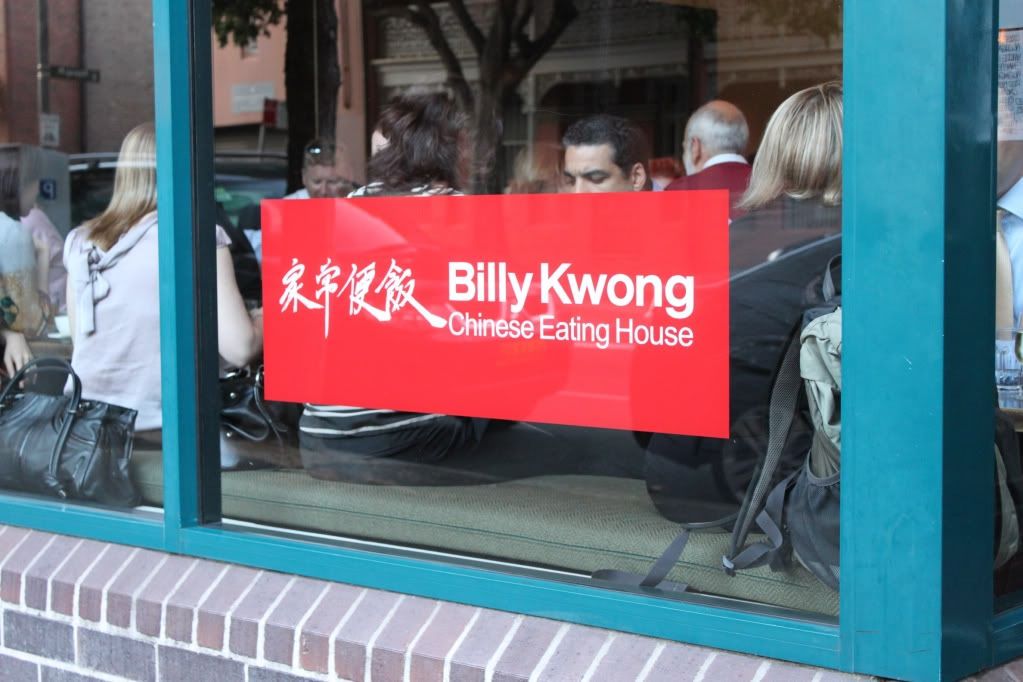 We squeezed into a side-street car space and waltzed straight onto one of the three remaining tables at 6.30pm. Fifteen minutes later, there were several queued parties watching us eat through the glass shop front. They may have been hungry but they were probably more comfortable than us inside.

The tiny tables are squished so close that my elbows frequently hit the back of the diner next to me.

We sat awkwardly on low three-legged plastic stools and the waiter tells me that the red rubber mat was recently added because so many people used to slip off the stools sliding against the floors. One huge lantern lights the intimate room that is chocolate-lacquered and decorated simply with plants.

Two cabinets frame a small open kitchen so we can perve on everyone else's orders.
We peck on the bowl of complimentary salted peanuts and I ask for a lemon lime & bitters.
"I'm sorry, we don't serve LLB. We have organic lemonade though...".
Silly me. Much emphasis is placed here on eco-friendliness, sustainability and ethical eating. The restaurant has been organic since 2005 with the business philosophy stamped on the menu: "

'To leave as small and light an environmental footprint as possible, to give back to the community whenever and wherever we can, and to think globally and act locally.'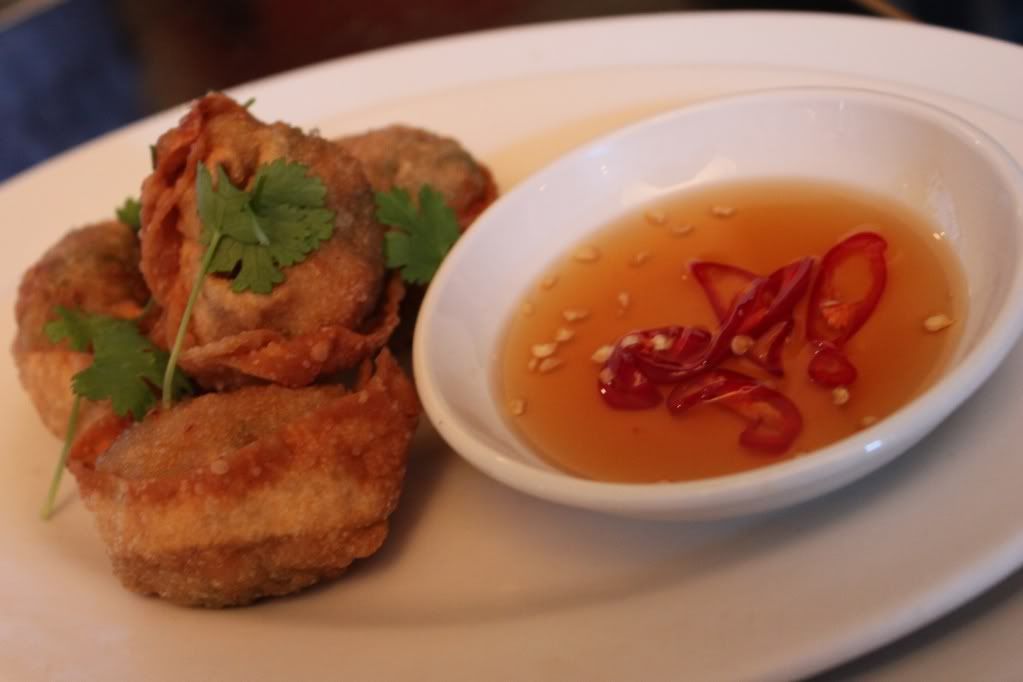 Our first entree is the The Crispy Prawn Wontons with Sweet Chilli Sauce ($19).

Fresh and hot, the wontons are certainly satisfying but we're unsure whether they're worth almost $5 per piece.
The next plate up is the very reason we are sitting there. Homestyle Fried Biodynamic Eggs with Organic Tamari & Homemade XO ($19).
When fried eggs is one of the signature dishes at a celebrity chef's one-hatted restaurant, you can't help but think they must be bloody good eggs.

I'm not sure about Dr Suess' green eggs but I certainly do like these!

I would eat them here or there and I would eat them anywhere.

The eggs are deep-fried... and then shallow-fried too. You'd think that means they come out burnt but the eggs are multi-dimensional;

with three different and delightful textures. The outer edges are crispy, crunchy and golden brown. The egg white is soft and moist. The creamy yolk oozes through and complements the chilli, spring onions and oyster sauce. Kylie Kwong has shared this
actually very simple recipe
that was inspired by Mrs. Jang, her Uncle Jimmy's mother. Well done Mrs Jang, well done indeed.
Our main is the Crispy-Skin Free-Range Chicken with Organic

Brown Rice Vinegar dressing ($48).
The chicken is sliced Chinese style and it's rather large- you can share this between three and still fill up. It's tender and juicy but beware of the small bones.

The pool of dressing is great- rich with a tangy bite. The hint of ginger creates a taste that reminds me of the Xiao long Bao at Din Tai Fung.

We are disappointed, however, that the skin is not crispy at all but rather soggy.
There is one Dessert of the Day available for $15 and I believe it's some sort of organic fruit platter with chocolate. It's not enough to win me over so we pay the bill and let a patiently waiting couple enter to take our place.
Overall, we thought the experience was good enough to warrant a return visit. A unique, modern-Chinese menu that is organic and biodynamic but most importantly, flavoursome. It's a little pricey, noisy and cramped so bear that in mind before you put all your eggs in one basket- no matter how delcious they are here.
Telephone: (02) 9332 3300
Address: Shop 3 / 355 Crown Street, Surry Hills
Hours: Dinner 7 days (no bookings except one table for 6-8ppl)
Bill: Entrees $6- 32 / Mains $15- 48 / Dessert $15